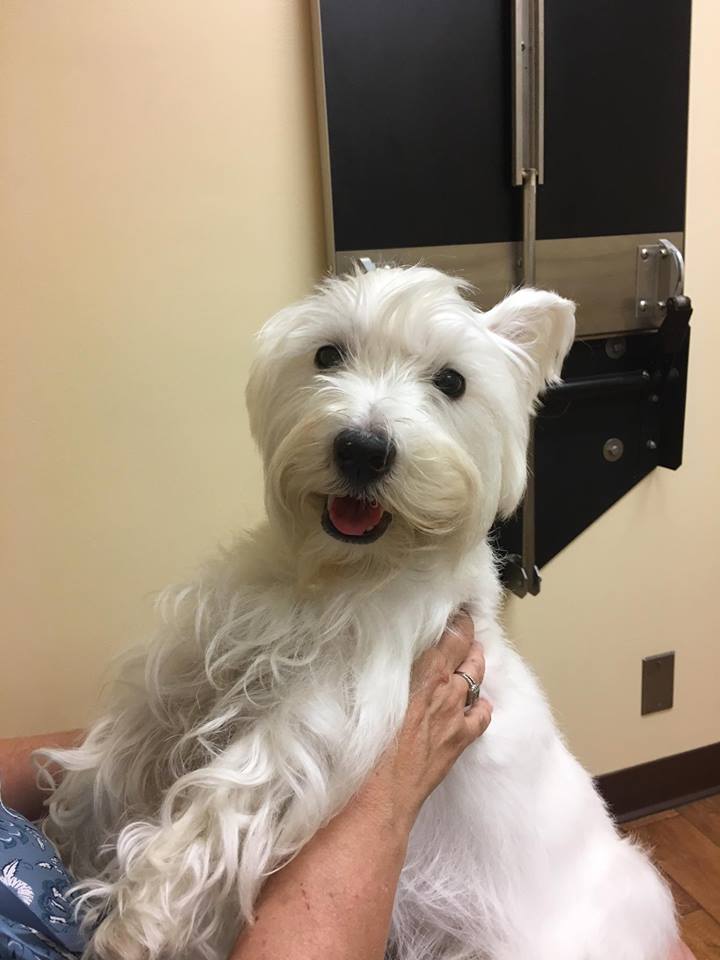 [/url]
My husband and I said goodbye to our 9 year, 3 month Westie ~ Woody on Monday, July 24, 2017.
It was a beautiful summer day, a perfect day to travel to the Rainbow Bridge.
Our dog became sick only a month before his departure.  He was diagnosed with metastatic adenocarcinoma of his pancreas/spleen/liver.   Despite our best efforts in keeping him medicated with daily prednisone; Chinese herbs ~ Wei Qi & Daily Statin; anti-nausea; and appetite stimulants, his symptoms were managed, but not improved.  
The hardest part in saying goodbye, is that he smiled several times that day.  I captured his last smile before the anesthesia was admininstred that stopped his heart.   I know we did the most compassionate act, by saying goodbye, before his symptoms become more difficult for him to bear.   He was sleeping 70-75% of the time; he had difficulty digesting food; and his bottom stomach area was hot to the touch.  Woody found relief by lying on the ceramic tile and ontop of the air conditioning vent.
I hope it gets easier living without him, but right now, my heart is broken.   I am grateful that we got him for 33 days (post diagnosis), instead of the typical 12, but there is never enough time to absorb the finality!
Please write to me and tell me how you are coping.
Woody's Mom



Posts

: 3


Join date

: 2017-08-02



Your Woody is very handsome, and such a sweet, precious smile. I cried as I read about him. The pain will ease in time, but the love, memories, and the hole in your heart will always remain. My Bailey will be gone on August 30th for 6 years, and not one day passes that I don't think about him, but I do smile & laugh now. My heart still feels like a piece of it is gone, my Bailey took that piece to heaven with him.
I will share with you in the many ways that I learned to grieve for him that helped me. Of course coming here, and writing about Bailey helped me tremendously. I have made pet loss friends that will be my friends forever, and they are from all over the world. Write about Woody, keep a journal or blog here. You can also go to www.doggyheaven.com, and post 5 to 6 pictures & write a memorial for him, family & friends can leave messages for you & Woody, and leave doggy treats for Woody. You will receive an email every time someone leaves a message or treat. My heart always skips a beat when I receive an email from doggy heaven. It means that someone remembered my Bailey. Wind chimes in the tree above Bailey's grave give me comfort. I like to think that when I hear them that Bailey & I are thinking about each other at the same time. I have solar lights on his grave. Bailey was my little light in my heart, and I am going to let him shine. Anything you can do that would honor Woody will bring you comfort. I have made doggy wreaths for Bailey. The wreath includes one of his dog collars, a photo ornament, a doggy bandana, and of course some beautiful flowers. I also have photo ornaments of him for the Christmas tree that I put out every year, he may be gone, but he is not forgotten. When Bailey passed away, I collected some of his dog hair out of his hair brush, and I put it a baggy; I still have it. I also put Bailey's picture on a candle jar, and I light tealight every night for him. I will never have another furbaby like Bailey again. I now have two dogs, Bonnie & Brinkley, I love them, but not like Bailey. It is okay to cry. The first year is the hardest.
Will be praying for you.
Becky & Bailey



Posts

: 5


Join date

: 2014-01-06




Similar topics
---
Permissions in this forum:
You
cannot
reply to topics in this forum