It's not just tonight that's been hard, but the whole process has been devastating.  My funky girl was only 7 years old when she made her climb to kitty heaven tonight.  She was diagnosed with cancer that had spread to her lungs and was causing her pain, discomfort, and most of all breathing issues.  She was on pain meds for the past few weeks that seemed to really help her.  She was still giving me morning snuggles, sitting in her favorite spots, and still trying to escape every chance she got.  She would eat quite a lot and seemed pretty content.The past 2 months her health had taken a turn for the worse and over the past 2 weeks she stopped really eating.  I kept prolonging the inevitable because she would still show me signs of herself.  She was still fighting for her life and I was fighting with her.  She would still love to come outside and roll on the sidewalk and smell the fresh air.  She even ate a little for me this morning... but the fact is she had lost so much weight and I know she didn't have the strength she once had.
She was largely misunderstood by most because she was quick to snap but very quickly would forget why she was even upset in the first place!  Her main goal in life was to smell the fresh air and be loved.  She did hilarious things that would often puzzle me and my husband.  I just loved every piece of her and missed her so much when I was away from her.
  I'm struggling with so many thoughts. I honestly don't know what to think and I'm trying desperately to think she is no longer in pain.  I stayed with her until the moment her heart was no longer beating, I knew I needed to be there for my girl because she would be there for me.  I can't help feeling that she went too soon and that I should have kept fighting for her.  I have thoughts like "If she ate for me this morning, should I have put it off? kept her going a little longer so she could live a bit longer?"  I made a list of things that she did enjoy and no longer enjoyed and although the negatives outweighed the positives I still can't shake the feeling.  She was way too young to pass away and she was cheated of what should have been a full life of adventures.  She was just a little baby, and in the eyes of the pet world too terribly little to die.  
 I keep picturing her riding in the car to the vet and seemingly okay despite her rapid breathing, and then picturing her still body later that evening. I'm sad, I'm lost, and I never knew I could be so attached to my little creature, my little love, my funky cat. I'll miss her forever and I know I'll think of her all the time.
My favorite time of day to share with her was when I would cook dinner and she would lay in the window smelling the delicious foods coming from the kitchen.  It would be even better when it was dusk.  I tell myself I'll meet her in my dreams right before the sun goes to sleep, and we can cuddle again and show our love for each other once more.
Any words of comfort are appreciated

funky cat




Posts

: 3


Join date

: 2017-08-02



Dear funkycat, I am so very sorry to hear of your loss of your adorable sweetie.  Unfortunately I had to do the same thing on Tuesday to my precious kitty Marmalade, or Duke as I always liked to call him.  He always greeted me when I came home except with the rare power naps where he was dreaming, but eventually showed up to say hello and grab a snack.  That was the best thing in the world and I certainly feel I took him for granted because in the end, my only thoughts were could I have done more, and when and why didn't I even with the vet reminding me how good we took care of him, treating thyroid and kidney problems.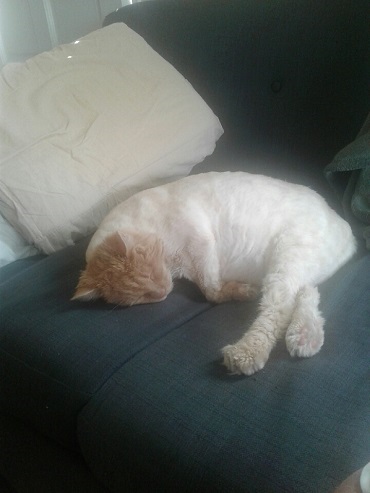 My home is so quiet, I miss him walking on the carpet even jumping up on furniture to hang out with me, scratching on Costco flat strawberry box.  It's deafening.  I know what you are going through, Duke was doing ok, but had a few issues that I had scheduled to have the vet look at during his annual appointment, but Sunday he took a turn way for the worse where he could not hear, see or even walk anymore.  Eating and drinking stopped almost to a nil, even though he ate a good bit Saturday and I thought the recent throwing up episodes were temporary as they were sporadic.  I was shocked beyond belief and not prepared.  The vet (his vet for 13 years) said that even their best efforts would be fruitless and not bear any longevity as his kidney's were shutting down and his blood pressure was very high.  It was literally the most excruciating decision I have had to make in my entire life.  Keeping him around even with the heaviest of medications would have been more devastating, and only mildly pain-relieving.  I too have the vision of riding in the car, was I moving too fast, was it better he die at home, I didn't even look up hospice care, etc...thinking back several times, could I have extended his life?  I think it would have been selfish.   I can say, even though it has been a few days I am trying to move forward, heartbroken as I am and bursting out in tears unexpectedly at work or elsewhere.  But I have to do it, I have to grieve and its going to take time.
I stayed also until the end, the very last breath he took and knowing that we had him this entire time 17-1/2 long years I cannot describe the pain of loss I feel.  I am glad I decided to stay with him.  I said thank you over and over, and I love you multiple times before saying goodbye.  He's crossed over to the bridge I am sure and is probably saying hello to your kitty as we speak, being there I would like to think greeting all the beloved pets as he greeted me every day.  And the loss is real because my ex and I had him until 2 years ago when we split, then I didnt have him for a short while but got him back, and I am so glad I did because he was able to help me heal from the split and how I am totally indebted to him for that, such a selfless act bestowed upon me, even if I feel like I lost my ex all over again and him at the same time.
I hope this finds you some comfort and sense of solace, these words. Also, in closing if you feel you need to please seek help professionally and don't feel embarrassed at all because this pain and sadness is as real as any human can be, please know that.  My best wishes to you and your family, and our angels up there and we will get through this.

duke2000




Posts

: 1


Join date

: 2017-08-03



Oh, I am so sorry! It's very clear you loved her very much! This is such an agonizing decision, and it's important that you know, you did what was best. You gave your lovely girl the most dignity she could have during this time. She was a fighter and you gave her peace. She knows you loved her and that you did what was best for her. You gave her a good life and the best of bonds since you were the only one who could understand her how she needed to be understood. You were a good furparent to this precious baby!

FluffyLove2017




Posts

: 6


Join date

: 2017-08-02



to Duke2000- I am so sorry for your loss. It is so hard to lose a precious pet, especially when they don't go naturally. They are so innocent and our little loves. You will continue to feel like he's there and at times forget that he's not going to come running for his snack when you come home. I feel the same thing. I keep looking for funky in her favorite spots and forgetting I don't need to close the door right away because she isn't right there to run out.
It sounds like you did what you had to do for Marmalade. He sounded very sick and he knows that he had to go. You have to keep reminding yourself that, and it sounds like you were an extra special fur parent. It is okay to cry. We can't be strong every second. They are our babies and they are everything to us and when they leave a piece our heart goes with them.
What has helped me is little memorials I have made for her around our house. I planted a sunflower and put it in a big pot and it now sits outside in a spot that funky loved to roll on. One of her favorite things to do was to roll back and forth on her back on the sidewalk in front of our house and feel it scratch her back. Since I've had the sunflower it brings a smile to my face when I enter or leave the house, and I can think of her. I've also put up a few pictures here and there and I have the paw print that the vet made of her that I have on my dresser. It sits next to a plant that the day she passed I planted a few treats and a few pieces of her hair in. I also tied a piece of a bandana we used to put on her for fun around one of the leaves, and because she used to love chasing pinecones that would fall from the tree in the back around the kitchen I put that in the soil as well.
Maybe that seems like a lot but these memorials have helped fill the void a little... I wish you luck in your recovery and try to remember the positive things. Try to remember the good times and not the last few moments. That has been traumatizing me since Wednesday night the thought of her still body at the vet but instead I'm picturing her poancing through the house chasing a bug or sitting outside my shower waiting for me to get out with big eyes saying to me "WHATCHA DOING IN THERE MOM?" I look forward to it getting easier. For now tears sometimes, and happy memories as much as you can.
Fluffylove2017- Thank you so much for your kind words and telling me I was a good fur parent. I did not feel like one when I made the decision to put her down and I still have thoughts like maybe I did it too soon but I keep reminding myself how sick she was. I know I did the right thing. The vet even sent me this beautiful email today reaffirming my decision. I like to think she knew I loved her. I wish I had given her more catnip or I had one more time to hold her and tell her I loved her. But I don't have that. I need to be at peace and be okay with what is. I love funky and miss her like hell. Thank you for your kind and beautiful words <3
All these things have been really lovely to see and help remind me that she is still with me.
I also saw two butterflies floating around our yard yesterday. I like to think that was her telling me she's okay now and she is at peace and she can breathe normal again. I have to remind myself she was very sick.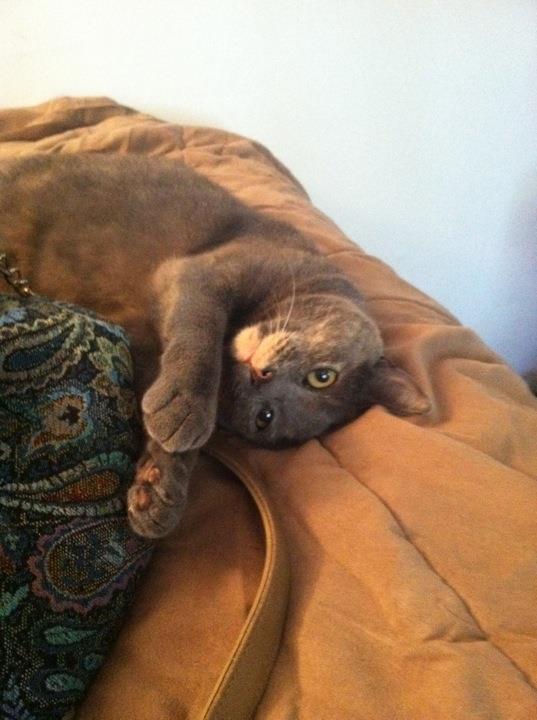 funky cat




Posts

: 3


Join date

: 2017-08-02



Also the poem got interrupted by that image on top of it, don't know why! Sorry about that. Enjoy your weekend

funky cat




Posts

: 3


Join date

: 2017-08-02



I am so sorry to hear about your loss.  I have a sick kitty and will have to make that same difficult decision soon.  
I can tell you were a great fur parent.  I chose to believe you are still a fur parent because you carry your kitty in your heart.  
I was a mess this morning because my Kimba girl (renal failure, stage 3) has stopped eating.  We are trying an appetite stimulant but I know that time is looming ahead.  
So glad we have this forum.  This is my first post so I hope I am doing this correctly.  I don't feel so alone now which is good.  

KimbasMom




Posts

: 1


Join date

: 2017-09-28



Similar topics
---
Permissions in this forum:
You
cannot
reply to topics in this forum